Or…the illusion of incomplete data!
We can be easily fooled by the data that are presented to us—and therefore have a skewed, or limited, understanding of the whole picture.
Take a look at these two charts about positive COVID-19 cases provided to us by Hillary Hartley, Chief Digital and Data Officer (CDDO) at @ONgov
Chart Showing 'Number of Cases'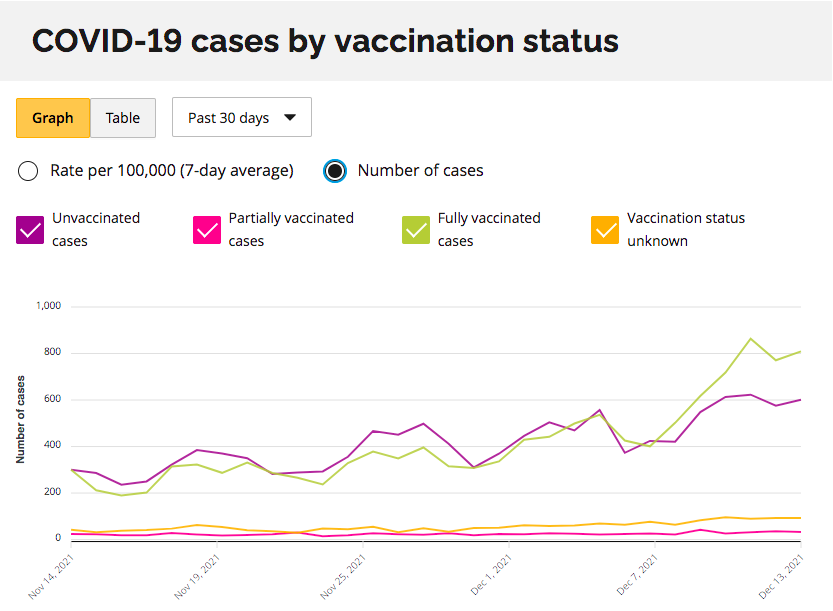 Notice that this first chart shows the number of cases. It shows that the number of fully vaccinated people testing positive for COVID-19 is greater than the number of unvaccinated people testing positive! WHAT!?
On December 13, approximately 800 fully vaccinated people tested positive while only 600 unvaccinated people tested positive.
The conclusion that many people might draw is that the vaccination is not working!
However, that is only part of the data picture. This is the prevalent data set that is given to us each and every day. It is insufficient. We need to examine more data!
That conclusion will be put into question. Look at this next chart.
Chart Showing 'Rate per 100,000'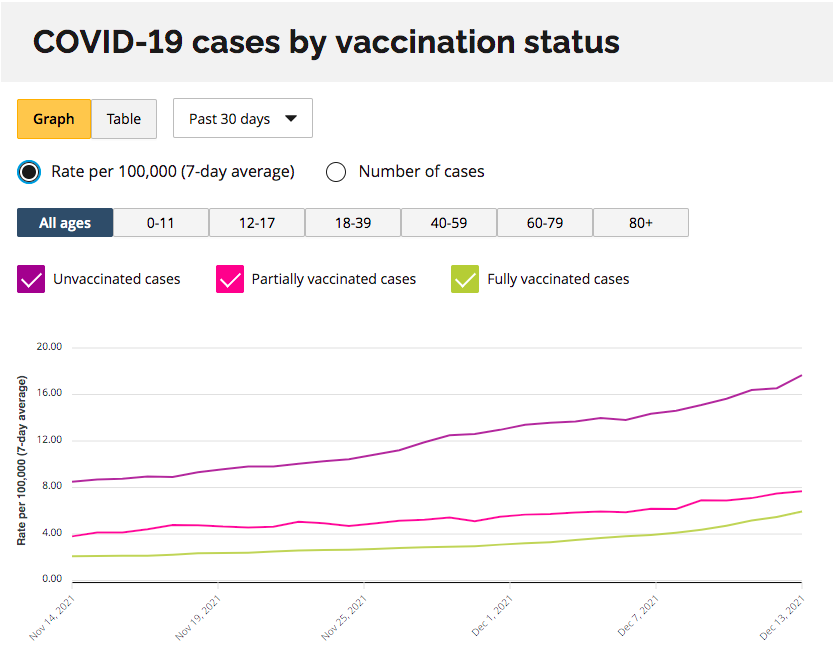 This second chart shows the rate of testing positive per 100,000 for each category. It shows quite a significant and different picture! Only 6 of 100,000 fully vaccinated people tested positive for COVID-19 whereas approximately 17 of 100,000 unvaccinated people tested positive.
.006% compared to .017%
Even that doesn't draw the whole picture for us. Here's what Hillary Hartley has to say.
"One reason data literacy is important: helping people understand the difference between these two charts. With a 90% vax rate in Ontario, it is not surprising that the case numbers of the fully vaccinated are higher – there's a 9 in 10 chance a case falls into that category!"

Hillary Hartley, @Hillary, Chief Digital and Data Officer (CDDO) at @ONgov
You can't be 'in charge of your own learning' if you don't seek out enough data to make a reasoned conclusion.
Help your students to become data literate. Don't allow them to fall prey to the trickery of insufficient data.
I would appreciate your thoughts to deepen my understandings as I readily admit that I am not as data literate as I should be.
And, stay healthy and safe.